Sprinkler Repair Services in Menlo Park, California

Each Menlo Park sprinkler repair service call starts with an understanding of your sprinkler issues. Some problems, like a broken head, can be sized up by just a quick examination of the unit. When it comes to larger jobs, however, we won't break ground without a thorough understanding of your sprinkler system. This usually involves a walk through of the grounds, an examination of your existing sprinkler system, and working knowledge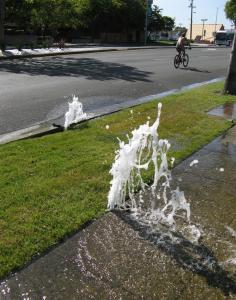 e of your water supply connection. Our thorough inspections will also allow us to spot weak points in your sprinkler system, catching bigger problems before their occur and stopping systematic problems before they nickel-and-dime you to death with leaks or inefficient water usage.

For every job, big or small, you can expect our technicians to bring the necessary skills and tools it will take to tackle your emergency Menlo Park sprinkler repairs. We don't want to waste time calling in additional contractors or equipment, because we value our customers' time. Most every part we need for emergency fixes is kept on-hand in our emergency work vehicles, and we do our best to understand the nature of larger jobs so we can come prepared with the necessary specialized parts and equipment.

Our service area covers all sprinkler repairs in Menlo Park, California, as well as the surrounding areas. Call us for:

Repair and replacement of bad piping and fittings
Sprinkler head repair and installation services
Resetting and fixing of malfunctioning sprinkler timer systems
Preparing sprinkler systems for colder winter months
System diagnostics and adjustment tuning of sprinkler heads
Location of leaks and and upcoming leaks
Landscape trim and lighting installation or repair
Landscape and watering system wiring repair
Troubleshooting solenoid valves
Managing and diagnosing water pressure control systems
Landscape forming and grading for improved drainage
Cement and masonry landscape installation
Custom sprinkler installation services for complex projects
Are you facing a large project that seems overwhelming? Give us a call. We can scope out what needs to be done and how to break the project down to manageable, affordable phases that will work within your budget.

The Menlo Park Sprinkler Repair Contractors with Integrity

Do you hate contractors who give you bids that turn out to be totally divorced from reality?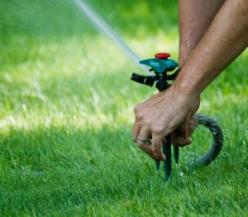 We've all hired contractors before, for plumbing repairs or roofing or whatever else, who turn out to be nothing short of sleazy. Don't waste your time with the kind of disingenuous repairmen who are perfectly content to triple your initial bid with charges that they've made up on the spot. Our Menlo Park sprinkler repair contractors have seen the worst of it, and we strive to provide reasonable, accurate estimates for all our jobs. With a clientele that speaks for itself, you can see that we always put customer service first, because at the end of the day your lawn doesn't care how it looks. We're dedicated to providing superior customer satisfaction every step of the way.